David Johnston sworn in as Canadian governor general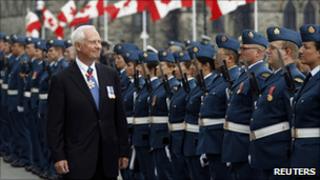 David Johnston has been sworn in as the 28th governor general of Canada.
Mr Johnston, 69, will be the Queen's representative in Canada, charged with performing the constitutional role she fulfils in Britain.
In a speech after an pomp-filled ceremony in Ottawa, the prominent legal scholar and academic administrator called Canada "the envy of the world".
Mr Johnston replaces Michaëlle Jean, a former journalist appointed in 2005 who is to be UN envoy to her native Haiti.
"I see my role as a bridge in bringing people of all backgrounds and ages together to create a smart and caring nation, a nation that will inspire not just Canadians but the entire world," he said.
Mr Johnston was born in northern Ontario, the son of a hardware store owner. He has had a long career in the Canadian legal academy, with postings at some of the nation's top law schools.