US links al-Qaeda to recent Europe terror plot - report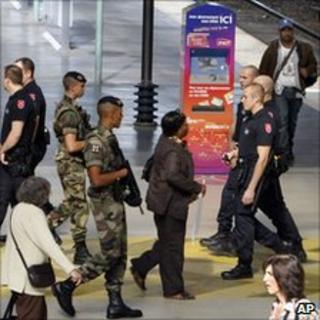 US counter-terrorism officials are reported to have said they believe al-Qaeda leaders, including Osama Bin Laden, were involved in a recent plot against European cities.
The plan involved launching attacks in the UK, France and Germany, intelligence sources were quoted by the Associated Press as saying.
Details of how the plan was directed by al-Qaeda's leaders are not yet clear.
Bin Laden and other al-Qaeda leaders are believed to be hiding in Pakistan.
Attack 'not imminent'
Western intelligence sources say militants planned to seize and murder hostages, similar to the attacks carried out in Mumbai in 2008.
In an effort to foil the attacks, the US Central Intelligence Agency (CIA) ramped up missile strikes from unmanned drones against militants in the Pakistani tribal regions, the Wall Street Journal reported earlier in the week, citing security officials.
US officials have been pushing Pakistan to increase their search for the militants, who are believed to be hiding in a mountainous border region in the country.
On Friday, a senior US official was quoted by the Associated Press as discounting any involvement in the terror plot by the North African arm of al-Qaeda.
The official told AP that although al-Qaeda might want to bring terror operations to Europe, there were no signs that they were capable of exporting terror.
Counter-terrorism authorities have not said what has led them to believe al-Qaeda played a role in the recent terror plot.