Profile: US Supreme Court Justice Elena Kagan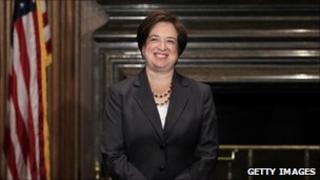 Supreme Court Justice Elena Kagan made history in two ways when she was sworn on to the bench in August.
For one, the ceremony marked the first time in US history that three women have sat on the Supreme Court at once. And Ms Kagan became the first justice in nearly four decades to ascend to the high court with no prior judicial experience.
In choosing both Ms Kagan and his previous nominee, Sonia Sotomayor, President Barack Obama carefully considered their "real world" credentials: time spent outside the isolation of the courtroom.
He hoped that their experience would enhance their understanding of how rulings affect the daily lives of Americans.
Ms Kagan appears to fit that bill. She has a desirable pedigree, which includes attending Princeton University, Oxford and Harvard Law School.
And not only had she never sat on the bench, but before becoming Mr Obama's solicitor general in March 2009, Ms Kagan had never argued a case in court.
That differentiates her from the current Supreme Court justices, each of whom has spent most of their professional life inside courthouses.
Smooth sailing
But Ms Kagan has long thrived in the upper echelons of the US legal establishment - she was a tenured professor at the University of Chicago before receiving the prestigious appointment of Dean at Harvard's Law School. She is considered an intellectual leader, and perhaps a counterweight to Chief Justice John Roberts.
She also spent several years working in President Bill Clinton's White House, first as legal counsel and later as a domestic policy adviser, sharpening her first-hand knowledge of the intersection of law and policy.
Ms Kagan sailed through her confirmation as US solicitor general and had a similarly smooth path to the Supreme Court. That she won Senate confirmation with only 63 votes - split on party lines - speaks more to the Washington political culture than to substantive concerns about her fitness to serve on the bench.
She is the fourth female justice in history. She is also the third Jewish justice currently serving and the eighth in history.
Ms Kagan is widely considered a moderate consensus-builder, neither particularly exciting to liberals nor antagonising to conservatives. She is unlikely to alter the court's ideological make-up.
Having never been a judge, she has no rulings to critique, so senators largely had to rely on her testimony before the Judiciary Committee and her academic writings to determine her judicial philosophy.
'Moral injustice'
As Dean of Harvard Law School, Ms Kagan briefly banned military recruiters from using the school's recruitment office over her objections to their ban on openly gay service members, although she continued to allow the recruiters on to school grounds.
Harvard had refused to assist military recruiters for more than 20 years because of the ban, but following the 11 September 2001 attacks, the institution gave way to renewed political pressure - and the possibility of losing millions of dollars of federal funding - and allowed the military once again to use its recruitment office.
Ms Kagan was appointed Law School Dean the following year, and openly criticised the military's "Don't Ask, Don't Tell" policy. She called it "a moral injustice of the first order" and told students via e-mail that she abhorred the policy.
The potential for Ms Kagan's opposition to Don't Ask, Don't Tell to upset her confirmation hearings had been defused in recent years though.
Polling by the Gallup organisation shows that the majority of Americans now support allowing gay men and women to serve in the military. The Pentagon is currently engaged in a review of Don't Ask, Don't Tell, which is expected to result in a strategy for repealing the policy.
The Obama administration also pushed back against rumours that Ms Kagan is a lesbian, after CBS News published a blog post indicating that she would be the first openly gay Supreme Court justice.
Anita Dunn, a former White House communications director who assisted the administration with the Supreme Court deliberations, said that the blog post's author, Ben Domenech, was "applying old stereotypes to single women with successful careers".
CBS responded by removing the post and Mr Domenech offered an apology to Ms Kagan for repeating "a Harvard rumour in a speculative blog post".
Unknown views
Since the Supreme Court ruled in favour of a woman's right to an abortion in 1973, abortion has been a hot-button issue in Supreme Court confirmations.
It was a critical factor when President Ronald Reagan's nominee Robert Bork was rejected by the Senate in 1987.
Ms Kagan has been quiet on the topic - and on many others - but she is assumed to be pro-choice.
That lack of clarity around her judicial visions concerns some progressives.
Widely-read blogger Glenn Greenwald has vigorously questioned her silence on some of the Bush administration's constitutional controversies, including its unprecedented extension of executive power in areas such as detention, rendition and surveillance.
Greenwald worries that appointing someone without a clear record of judgements risks resulting in a justice whose philosophy is ultimately at odds with that of the administration.
That would put Ms Kagan in a camp with justices John Paul Stevens or David Souter, who were both appointed by Republicans but ended up aligning with the court's liberal wing.
Her first term on the Supreme Court bench is sure to be closely watched.