Profile: Pete Rouse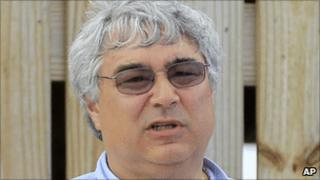 Pete Rouse, President Barack Obama's interim White House chief of staff, is a behind-the-scenes man who has spent virtually his entire professional career advising Washington power players.
One of Mr Obama's most trusted long-time advisers, Mr Rouse is a member of a powerful but low-profile class of Washington political operatives, known for his connections in the US Senate.
He joined Mr Obama soon after the latter's 2004 election to the Senate, when Mr Obama sought him out for his experience in the chamber and his familiarity with Washington.
Mr Rouse helped him grow from a prominent but untested junior senator to a legitimate presidential contender, then helped assemble the strategy and campaign team that put Mr Obama in the White House.
His tasks in the White House included helping push Mr Obama's healthcare reform proposal through Congress and managing an as yet unsuccessful bid to empty the detention centre at Guantanamo Bay, Cuba.
'Skilful problem-solver'
"From the moment I became a US Senator, he's been one of my closest and most essential advisors," Mr Obama said in announcing his promotion to the job.
"There is a saying around the White House, let's let Pete fix it. And he does. Pete's known as a skilful problem-solver, and the good news for him is that we have plenty of problems to solve."
Mr Rouse is known as a workaholic Washington insider steeped in years of partisan battle as a Democratic aide in the US Senate. He is also famously press-shy, a marked contrast to Mr Emanuel, who was known for ringing reporters' cell phones to gossip.
A Connecticut native, Mr Rouse graduated from Colby College in the US state of Maine and has a master's degree from Harvard.
He spent almost two decades as chief of staff to Senator Tom Daschle, former Senate Democratic leader, gaining such power in the chamber he was jokingly known as the 101st senator.
Mr Daschle lost a re-election bid in 2004, the same year Mr Obama was elected to the Senate. Mr Rouse signed on as Mr Obama's chief of staff, soon becoming one of his most trusted advisers and helping to lay out his presidential campaign strategy.