Ex-US President Carter remains in Ohio hospital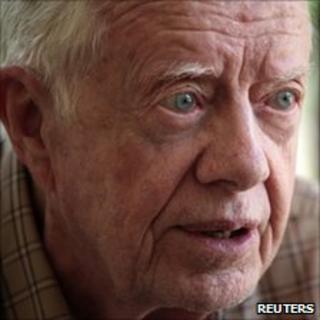 Former US President Jimmy Carter remains in hospital for further observation following an overnight stay for an upset stomach he developed on a flight to Cleveland.
The 85-year-old was travelling to promote his new book, White House Diary, which was released last week.
The former president's publisher cancelled book signing events scheduled for Wednesday in Washington DC.
He served as 39th US president from 1977 to 1981 and turns 86 on Friday.
Mr Carter was taken to MetroHealth Medical Center at about 1130 local time (1530 GMT) on Tuesday after developing an upset stomach onboard a Delta Airlines flight. His doctor advised him to remain in the hospital in the US state of Ohio overnight, the Carter Center said in a statement on Tuesday.
"Carter is feeling normal this morning," Christina Karas, a spokeswoman at MetroHealth Medical Center, said on Wednesday.
She added: "His doctors at MetroHealth Medical Center recommended additional observation during the day. He looks forward to resuming his schedule as soon as possible."
Book signings scheduled for Tuesday were also cancelled in a Cleveland suburb and in the US state of North Carolina when the 2002 Nobel Peace Prize winner fell ill.
Mr Carter has recently called for the US to develop stronger ties with Iran and North Korea.
Last month, Mr Carter secured the release of Aijalon Mahli Gomes, a 31-year-old American citizen detained in North Korea.
He founded the Carter Center a year after leaving the White House to promote elections and mediate conflicts around the globe.