US court overturns stem cell research funding ban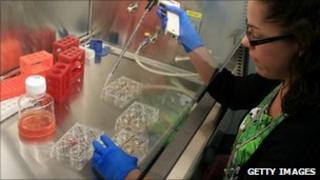 A court in the United States has ruled that federal funding for embryonic stem cell research can continue while the government appeals against a total ban.
The ruling by the US Court of Appeal in Washington overturns an earlier suspension by a federal judge.
Government lawyers said dozens of research projects into deadly diseases would be ruined if the ban continued.
Opponents of stem cell research say it violates US law because it involves the destruction of human embryos.
US District Judge Royce Lamberth had ruled in August that all funding for the research from the National Institutes of Health (NIH) should be suspended while its legality was challenged in the courts by a coalition of groups.
That ban was temporarily suspended earlier this month, but Tuesday's Appeals Court decision overrules it until the final decision is reached.
The three-judge panel in Washington said the government had "satisfied the standards required for a stay pending appeal".
The White House welcomed the decision, saying the "pursuit of groundbreaking treatments and cures" was a top priority of President Barack Obama.
"We're heartened that the court will allow NIH and their grantees to continue moving forward while the appeal is resolved," said spokesman Robert Gibbs.
Scientists say stem cells, which are derived from human embryos, are crucial for research because of their ability to develop into specialised human tissue.
The research is used to investigate cures for spinal cord injuries and diseases including Alzheimer's and Parkinson's.
Opponents, which include religious groups, argue that the research is unethical and illegal.
Sam Casey, a lawyer for the opposing coalition, said the ruling was disappointing but that the group were confident in their case and "expect the court will ultimately end taxpayer funding of unlawful, unnecessary and unethical experiments on living human embryos".