Canadian judge overturns brothel ban in Ontario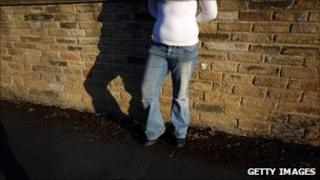 Pimping, soliciting and running brothels have been decriminalised in Canada's Ontario province after judges overturned a ban on the practices.
The Ontario Superior Court upheld a challenge brought by three prostitutes who argued that the ban forced them to risk their safety on the streets.
One of the prostitutes described the ruling as emancipation for sex workers.
The national government is considering appealing against the ruling, amid fears other provinces could follow.
The ruling will go into effect in 30 days if the government does not appeal.
In a 131-page ruling, Judge Susan Himel found national laws banning brothels, solicitation of clients and managing sex workers violated a provision of the constitution guaranteeing "the right to life, liberty and security".
She called on the Canadian parliament to regulate the sex trade rather than ban such practices.
"These laws... force prostitutes to choose between their liberty, interest and their right to security of the person," she said.
One of the three prostitutes who brought the case, Terri Bedford, had told the court she had been beaten and raped many times.
She described the judgement as "like emancipation day for sex trade workers".
"The federal government must now take a stand and clarify what is legal and not legal between consenting adults in private," said Ms Bedford, who added that she now hoped to work as a dominatrix.
But supporters of the overturned laws fear that the ruling will make Canada a haven for human traffickers.
Canadian Justice Minister Rob Nicholson said the government would "fight to ensure that the criminal law continues to address the significant harms that flow from prostitution".
Street prostitution in Canada has been under increased scrutiny in recent years following the trial of Robert Pickton, a Vancouver pig farmer convicted in 2007 of killing six sex workers.
Pickton is suspected in dozens more killings. This summer, a Canadian court denied him a new trial.