US army court hears Afghan civilian murder case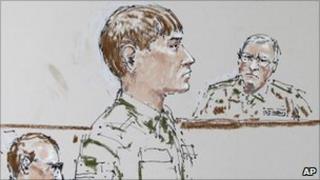 A US soldier charged with murdering Afghan civilians has appeared before a military court, which will decide if there is to be a formal court martial.
Cpl Jeremy Morlock is accused of the premeditated murder of three Afghan civilians earlier this year.
Prosecutors say Cpl Morlock was acting under the direction of his unit's leader, Sgt Calvin Gibbs.
Three other soldiers have also been charged with the murders. All five deny the charges.
Seven other soldiers have been charged with conspiracy to cover up the alleged murders.
A number of witnesses, including three other soldiers accused in the case, invoked their right not to testify at the hearing, known as an Article 32 hearing, on Monday at Joint Base Lewis-McChord near Tacoma, Washington state.
Investigating officer Col Thomas Molloy will decide if there is enough evidence to proceed to a court martial.
'No bodies, no weapons'
The murders are alleged to have taken place between January and May this year when Cpl Morlock's unit was deployed in Kandahar province, in southern Afghanistan.
The five accused of murder allegedly threw grenades and opened fire on civilians in unprovoked assaults while the other seven are accused of dismembering the victims and collecting body parts.
The soldiers are all from the army's 5th Stryker brigade, which deployed to Afghanistan last year and saw heavy fighting around Kandahar.
Cpl Morlock's civilian lawyer, Michael Waddington, told the pre-trial hearing there was little evidence linking the soldier to the crimes.
"They have no bodies, no weapons seized, no ballistic testing," said lawyer Michael Waddington.
He also said his client was heavily medicated for injuries received in Afghanistan when he told an army investigator in May that he had participated in several situations in which civilians were killed.
Mr Waddington described Cpl Morlock as a "good kid" from a small town in Alaska who was naive and impressionable.
"He's not a monster, he's not a sociopath, he's not a psychopath."
But army investigator Shannon Richey, who interviewed Cpl Morlock in May, told the court by telephone from Afghanistan that the soldier was "very articulate" when being questioned and did not seem impaired.
Cpl Morlock faces a potential death penalty if convicted. And the ramifications of the case for the US military could be dire as they face Taliban insurgents and attempt to win over civilians in the key Kandahar battle front.