Obama aide Rahm Emanuel 'will run for Chicago mayor'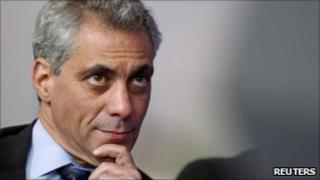 President Obama's Chief of Staff Rahm Emanuel will announce on Friday that he is leaving to run for Chicago mayor, sources close to the aide say.
The White House refused to confirm speculation, but said President Barack Obama would make a personnel announcement on Friday.
The Associated Press news agency spoke to two unnamed people close to Mr Emanuel who confirmed his intentions.
The aide has made no secret of his desire to one day run for mayor.
Mr Emanuel - who has a reputation for brashness - is a native of Chicago and represented Illinois's 5th district in Congress for six years.
Pundits have tipped Mr Emanuel to replace Richard M Daley, since the latter announced on 7 September that he would be stepping down.
"He intends to run for mayor," one of the unnamed people told The Associated Press.
On Thursday, White House spokesman Robert Gibbs said Mr Obama would make a personnel announcement on Friday, but Mr Gibbs would not confirm Mr Emanuel was leaving.
When he was appointed as chief of staff, some commentators drew attention to Mr Emanuel's reputation for abrasiveness.
On Monday, President Obama said: "I think that Rahm will have to make a decision quickly, because running for mayor of Chicago is a serious enterprise. And I know this is something he's thinking about."
Mr Daley has been mayor of Chicago since 1989, the second-longest serving in the city after his father Richard J Daley.
Mr Emanuel has made no secret of his desire, one day, to be mayor of Chicago.
"One day I would like to run for mayor of the city of Chicago," he said earlier this year. "That's always been an aspiration of mine even when I was in the House of Representatives."
If Mr Emanuel does decide to leave, senior White House adviser Peter Rouse has been tipped to replace him, even if only on a temporary basis.
Candidates to permanently replace Mr Emanuel include Deputy National Security Adviser Tom Donilon, and the vice-president's aide Ron Klain, and even former Senate Majority Leader Tom Daschle and ex-Clinton chief of staff John Podesta.
Any decision on permanent replacement may not be taken until after November's mid-term elections.