Stephen Colbert's political agenda: more than a laugh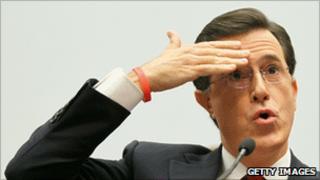 Satirist Stephen Colbert, who plays a conservative pundit on the US's Comedy Central television channel, has testified before a US Congressional committee in support of illegal immigrant farm workers. The BBC's Paul Adams asks what he was up to.
Stephen Colbert is hardly the first entertainer to appear before a Congressional committee.
Kevin Costner, Sheryl Crow, Dennis Quaid, Nicole Kidman, Sean Penn. The list goes on.
But they all appeared as themselves. Mr Colbert did... and didn't.
For much of the time, the Comedy Central star uttered the stridently patriotic simplicities of his on-screen persona, the host of the nightly Colbert Report.
His popular satirical show is specifically designed as a kind of counter-intuitive response to the likes of real life US conservative Fox News pundits Glenn Beck and Bill O'Reilly.
Perhaps not since Sesame Street's Elmo took his plea for more music in school to an education panel in 2002 has a fictional character testified before Congress.
It was certainly surreal. But what was Mr Colbert up to?
Judging by the bemusement, stifled laughter and occasional irritation of the committee members, it was not always easy to tell.
One senior member asked Mr Colbert if, having entered his prepared remarks for the record, he shouldn't simply leave. Another asked the satirist's conservative alter ego if he endorsed the Republican party's "Pledge to America" election manifesto, unveiled on Thursday.
"I endorse all Republican policies, without question," a poker-faced Mr Colbert affirmed.
Out of character
Texas Democrat Sheila Jackson Lee rashly tried to get the mischievous Mr Colbert to endorse the cause of comprehensive immigration reform, a professed priority for many Democrats and President Barack Obama.
"I think there are way too many undocumented Mexican workers here in the US," Mr Colbert shot back.
"It is time to roll up our sleeves and face this issue, mano a... whatever the Spanish word for mano is."
But the comedian's final statement, in which he spoke of migrant workers as people who "suffer and have no rights", clearly came straight from the real Mr Colbert's liberal heart.
With less than six weeks to go before the US mid-term Congressional elections, here was an influential media celebrity entering the political fray on a hot-button issue.
In a month's time, Mr Colbert will take his comedy, and perhaps his political views, onto what he and fellow Comedy Central satirist Jon Stewart hope will be a bigger stage than a House committee.
Political agenda
Their "competing" rallies in Washington on 30 October (Mr Colbert's to "March to Keep Fear Alive" and Mr Stewart's "Rally to Restore Sanity") represent a riposte to Mr Beck's "Restoring Honour" rally in front of the Lincoln memorial last month.
While its precise purpose remains unclear, the timing, a few days before the mid-terms, suggests a political agenda of sorts.
Perhaps even the two stars have yet to figure it out.
It is certainly a bit of a gamble. Anything less than tens of thousands of participants will seem like a damp squib after Mr Beck's huge August rally and could serve to add to the sense of impending defeat already hanging heavy around the Democrats ahead of election day.
Or am I reading too much into the whole thing?