Nicaraguan diplomat found dead in NY with throat cut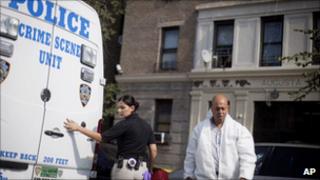 A Nicaraguan diplomat has been found dead with his neck slashed in his New York City apartment.
Consular official Cesar Mercado, 34, was found on Thursday morning by his driver, who had arrived to take him to the United Nations General Assembly.
Nicaraguan Vice-President Jaime Morales told news media a US official had pledged the FBI would thoroughly investigate.
A police spokesman said no motive had been identified nor suspects arrested.
'Knife near body'
New York Police Department Sgt Kevin Hayes told the BBC police were called to an apartment in the Bronx borough about 1035 local time, where they found a man dead with lacerations to the neck.
The driver had found Mercado's body lying just inside the unlocked door to the blood-spattered apartment, local media reported.
A knife was found near the body, police spokesman Paul Browne was quoted by the New York Times as saying. He said the apartment did not appear to have been ransacked.
In a 2007 list of foreign consular officials stationed in the US, the US state department listed Mercado as consul in Nicaragua's New York consulate, and said he had first been recognised as a diplomat in 2003.