US Congress warned of home-grown terrorism threat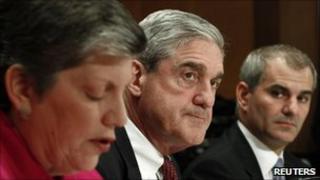 Three Obama administration officials have told Congress that efforts by terrorists to recruit US residents are causing new national security threats.
National Counterterrorism Center director Michael Leiter said the threat posed by terrorism had become more complex due to home-grown extremists.
"Domestic radicalisation" was becoming more pronounced, Congress heard.
At least 63 US citizens have been charged or convicted of terrorist acts or related crimes since 2009.
"Groups affiliated with al-Qaeda are now actively targeting the United States and looking to use Americans or Westerners who are able to remain undetected by heightened security measures," FBI Director Robert Mueller told the Senate Homeland Security and Governmental Affairs Committee.
Homeland Security Secretary Janet Napolitano said that the US was now seeing "more diverse activity" from a more "diverse collection of groups", adding that al-Qaeda had inspired an array of terrorist organisations.
US-born Anwar al-Awlaki, who has been labelled a "specially designated global terrorist" by his native country, is an example of a home-grown extremist spreading propaganda through the internet, Ms Napolitano said.
The Muslim cleric has posted sermons on the web thought to have inspired new recruits to Islamist militancy.
Home-grown plots have reached their highest level since 11 September 2001, according to the National Counterterrorism Centre.