California officials in court accused of pay scandal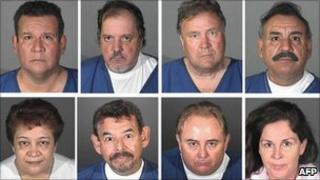 Eight officials from Bell, California, including the town's mayor and ex-city manager, have appeared in court over their alleged involvement in a city pay scandal.
The eight are charged with misusing $5.5m (£3.5m) in public funds.
They did not enter pleas during their appearance on Wednesday.
Meanwhile, a state audit suggested Bell leaders mismanaged more than $50m (£32m), levied illegal taxes, and paid city leaders exorbitant salaries.
"Our audit found the city had almost no accounting controls, no checks or balances, and the general fund was run like a petty cash drawer," state Controller John Chiang said in a statement.
The audit was made public a day after the eight current and former officials of the Los Angeles suburb were arrested.
Residents of the blue-collar town were outraged this summer when it was revealed that former city manager Robert Rizzo was being paid almost $800,000 (£500,000) - nearly twice what the US president earns.
Mr Rizzo, who resigned following the reports, faces 53 charges of misappropriation of public funds and conflict of interest. He had been city manager for 17 years.
But Mr Rizzo's attorney said in court he had been unable to review his client's felony charges because Mr Rizzo had been in a prison medical facility.
Councilman Luis Artiga and former Councilman George Cole are set to post bail, their attorneys said.
The Los Angeles County district attorney's office said it believed the two men had met the requirement of proving their bail money was not coming from illegal income.
Investigations into the case in Bell also include allegations of corruption and voter fraud.
Inflated salaries
The eight officials' salaries, which were revealed by the Los Angeles Times newspaper, were much larger than those of most public officials in California and around the US.
Mr Rizzo's deputy, Angela Spaccia, who received $376,288 a year, was also arrested on Tuesday.
Mayor Oscar Hernandez, Vice Mayor Teresa Jacobo, council members George Mirabal and Luis Artiga, and former council members George Cole and Victor Bello were the others allegedly involved in the scandal.
Mr Hernandez has said he will step down after completing the rest of his term without pay.
"We're alleging they used the tax dollars collected from the hard-working citizens of Bell as their own piggy bank, which they then looted at will," Los Angeles County District Attorney Steve Cooley told reporters after the arrests.
The 40,000 residents of the town, where one in six people falls below the poverty line, had been paying large property taxes and sewer fees.