Profile: Bob Woodward, from Watergate to Obama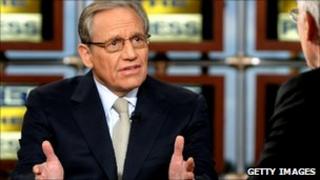 To most people, Bob Woodward's name will always be synonymous with one word: Watergate.
The veteran journalist was at the heart of the scandal that rocked the White House and brought down US President Richard Nixon in 1974.
Along with Carl Bernstein, his colleague at the Washington Post, Woodward was instrumental in uncovering a series of abuses of power that reached the highest level of the administration.
More than three decades on, Woodward remains at the Washington Post and is regarded as one of the country's most respected investigative journalists.
He can still be a thorn in the side of the White House, most recently releasing a book that has stirred up controversy over the war in Afghanistan.
Entitled Obama's Wars, the book suggests that President Barack Obama and his aides are deeply divided over the war in Afghanistan, despite Mr Obama's commitment to increase troop levels.
It hints at conflicts over the timetable for a US withdrawal, with President Obama reportedly wanting an exit strategy, saying: "I can't lose the whole Democratic Party".
The book is one of 16 written by the 67-year old over his long career, all of which have become best-sellers.
His first, All The President's Men, about Watergate and co-authored with Bernstein, was in 1976 adapted into a film starring Robert Redford and Dustin Hoffman.
Robert Upshur Woodward was born in Geneva, Illinois, on 26 March 1943, to Jane and Alfred Woodward.
He studied history and English literature at Yale University before undertaking a five-year tour of duty with the US Navy.
Upon being discharged as a lieutenant, Woodward considered law school - as his father suggested - but instead took two weeks' work experience at the Washington Post, which eventually ended in him being hired as a reporter.
Big break
His big break came when he and Bernstein were assigned to cover a 1972 break-in by five men who were arrested trying to bug the offices of the Democratic National Committee, housed in the Watergate complex in Washington DC.
The incident was traced to members of a Nixon support group, the Committee to Re-elect the President.
A series of cover-ups followed, and the conspiracy became known as Watergate.
President Nixon and his aides at first dismissed the Washington Post's reports.
But as the claims gathered substance, Nixon's support plummeted and, in August 1974, he became the only US president to resign from office.
Nixon was replaced by his Vice-President, Gerald Ford, who pardoned him, while Nixon's chief associates - Harry Haldeman, John Ehrlichman and John Mitchell - were convicted in 1975 over their role in the Watergate scandal.
Woodward has won a number of accolades for his work over several decades, including crucial contributions to two Pulitzer prizes won by the Washington Post - for Watergate and, more recently, for coverage of the 9/11 attacks.
But he is not without his critics, with some condemning his use of unnamed sources.
Journalist Christopher Hitchens accuses him of "access" journalism, where reporters gain information from sources on certain conditions.