Corruption arrests over California city pay scandal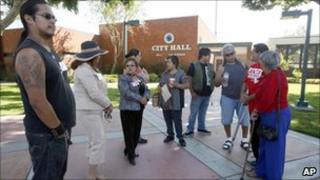 Eight people, including the mayor and ex-city manager, have been arrested after a probe into excessive local government pay in Bell, California.
There was outrage earlier this summer after it was revealed that the city manager was being paid almost $800,000 (£500,000).
The others arrested were former and current council members.
The investigation has looked into allegations of voter fraud, corruption, and misuse of public funds.
The former city manager Robert Rizzo faces 53 charges of misappropriation of public funds and conflict of interest.
"This, needless to say, is corruption on steroids," said District Attorney Steve Cooley.
Bell's mayor, Oscar Hernandez, who was also arrested, has already apologised for the scandal and said he will step down after completing the rest of his term without pay.
The officials' salaries were revealed by the Los Angeles Times newspaper.
Mr Rizzo's deputy, Angela Spaccia, who received $376,288 a year, was arrested. Vice Mayor Teresa Jacobo, council members George Mirabal and Luis Artiga, and former council members George Cole and Victor Bello were the others to be held.
Former police chief, Randy Adams, who earned $457,000, was not arrested. Mr Cooley said there was no evidence he had done anything wrong.
"Being paid excessive salaries is not a crime," Mr Cooley said. "Illegally obtaining those salaries is a crime."
The salaries paid to city officials were hugely out of step with the levels of pay made to most public officials in California and around the US.
Unapproved contracts
The district attorney alleges that those arrested misappropriated more than $5.5m, and made several illegal personal loans.
Mr Rizzo is accused of obtaining $4.3m through a series of unapproved employment contracts, while council members earned $1.25m for what Mr Cooley said were "phantom meetings" of committees and other bodies.
Mr Rizzo was also accused of doling out $1.9m in loans to Ms Spaccia, Mr Hernandez, Mr Artiga and several others.
The investigation is continuing and more charges could be pressed.
"They used the taxes of the hardworking citizens of Bell as their own piggy bank, which they looted," Mr Cooley said.
Bell, a small city of about 38,000 people, has an unemployment level of 16% and many in the mainly Hispanic, blue-collar community struggle to make ends meet. About 17% of people live in poverty.