Rain caused by Hurricane Igor lashes eastern Canada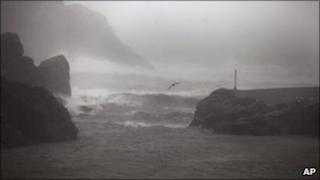 Eastern Canada has suffered heavy rain as Hurricane Igor moves north, with high winds across parts of Newfoundland.
More than 200mm (8in) fell in some areas in just a few hours, the Canadian Hurricane Centre (CHC) said.
Flooding and blocked roads in the towns of Clarenville, Marystown and Terrenceville prompted authorities there to declare states of emergency.
Parts of Newfoundland experienced gusts of hurricane force-wind.
At 1800 GMT, the storm was about 75 miles (120km) north-northeast of St Johns, Newfoundland.
"This is not your normal heavy rainfall flooding. It's having a major impact," said Chris Fogarty, of the CHC.
In Marystown, parts of main roads were washed out to sea.