Judge orders Lindsay Lohan arrest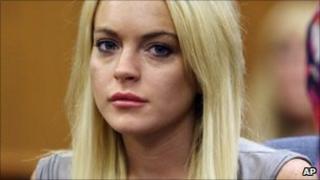 Judges in the US have issued an arrest warrant for actress Lindsay Lohan, who has admitted failing a drugs test just weeks after being freed from jail.
The 24-year-old star could be sent to jail for 30 days if she is found to have breached her probation.
She was freed in early August after serving 12 days in jail for violating probation stemming from a 2007 drunk-driving charge.
She is expected to appear at a Los Angeles court on Friday.
Last week Lohan wrote on her Twitter feed: "Regrettably, I did in fact fail my most recent drug test."
She said she was taking responsibility for her actions and was "prepared to face the consequences."
"Substance abuse is a disease, which unfortunately doesn't go away overnight," she said.
Lohan rose to fame as a child actor in Disney films such as The Parent Trap, but critics say her career has stagnated in recent years amid a series of high-profile scrapes with the law.