Air India bomb plotter convicted of perjury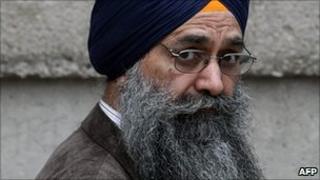 A Canadian who helped make the bomb that destroyed an Air India jet in 1985 has been convicted of committing perjury at the subsequent trial.
Inderjit Singh Reyat was jailed for five years in 2003 for manslaughter in connection with the attack, in which 329 people died.
He later testified at the trial of two Sikh separatists, and told the court then that he did not know what the bomb was for or who organised the plot.
Both men were acquitted.
Prosecutors at the perjury trial in Vancouver said Reyat - the only person ever to be convicted over the bombing - had told blatant lies to minimise his involvement and to protect others.
His lawyer said Reyat's poor grasp of English had caused confusion.
Reyat, 58, sat passively in the court as the jury delivered its verdict after more than two days of deliberation.
He was taken into custody and will be sentenced at a later date. Correspondents say the maximum sentence for perjury is 14 years in jail, but sentences of two to three years are more usual.
Air India flight 182, flying from Canada to India, blew up in mid-air in June 1985, plunging into the Atlantic off the Irish coast.
At about the same time, another bomb exploded prematurely in Japan, killing two baggage handlers.
Golden Temple
Both explosions were linked to Canadian-based Sikhs retaliating for India's deadly 1984 storming of the Golden Temple, the holiest shrine in the Sikh religion.
It was not until 2005, after many setbacks in the investigation, that two Canadian Sikhs, Ripudaman Singh Malik and Ajaib Singh Bagri, were charged with a number of offences - including first-degree murder - for the bombing.
But after a two-year trial, both were acquitted on all counts because of a lack of evidence.
Reyat was jailed in the UK for 10 years in 1991 for his involvement in the Japan bombing.
In 2003 he pleaded guilty in a Canadian court to manslaughter in connection with the Air India bombing, and was sentenced to another five years in prison.
He was charged with perjury in 2006 and has been out of prison on bail since July 2008.
In June this year, a Canadian inquiry concluded that a "cascading series of errors" by Canadian security agencies had led up to the bombing.