New York battered by twin tornadoes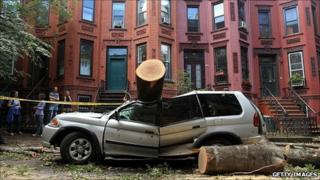 US weather experts say a freak storm with two tornadoes was to blame for a trail of destruction across New York City that left one person dead.
More than 1,000 trees were uprooted and power was cut to hundreds of homes when the storm struck on Thursday.
The woman who died was in a car hit by a falling tree and had just switched seats with her husband, who survived.
It was the ninth time New York City has been hit by a tornado since 1950, and the second this year, officials said.
The US National Weather Service said on Friday that the tornadoes had been part of a fast-moving storm, along with a fierce microburst with speeds up to 125mph (200 km/h).
The storm travelled from Staten Island, across New York harbour and then carved a 14-mile (22km) path of destruction from Brooklyn to the Bayside neighbourhood in Queens.
'Poltergeist'
Parks Commissioner Adrian Benepe said many more trees were so badly damaged they would have to be felled.
The woman who died was named as Aline Levakis, 30, who had been sitting in a parked car in Queens with husband Billy Levakis.
The couple, from Pennsylvania, had just switched seats when the tree fell on them, said their former business partner, Peter Markos.
Mayor Michael Bloomberg described the incident as "tragic", adding that there had been other stories of lucky escapes from falling trees across the city.
Resident Steve Carlisle, 54, described how he saw a 25ft tree branch fly up the street and then start spinning in the air.
"It was like a poltergeist," he said.
"Then all the garbage cans went up in the air and this spinning tree hits one of them like it was a bat on a ball."
New York City has suffered freak storms before. One in August last year toppled about 500 trees in Central Park, the New York Times reported.