The real Jimi Hendrix experience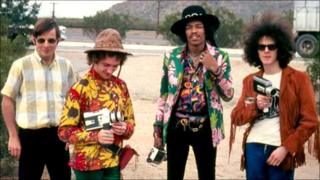 Forty years ago, one of the most admired of all rock guitarists died in London at the age of 27.
Since his death, Jimi Hendrix has become an icon of 1960s culture, both the music and the visual image known around the world.
Born in the US, Hendrix spent his final years mainly in London.
He died of an apparent overdose at what was then the Samarkand Hotel in Lansdowne Crescent, Notting Hill, on 18 September 1970.
Sound engineer Roger Mayer, who knew Hendrix well in London, believes Hendrix's drug-use has been exaggerated.
"When I knew him he wasn't stoned all the time, which is what people think," he says.
"You can't play guitar to that standard on stage or in the studio if you're stoned on drugs. I've seen other people try but it doesn't work.
"He was less outrageous than a lot of other people at the time," he adds.
'Immediate charisma'
Mr Mayer first approached Hendrix after a gig at the Bag O'Nails nightclub in London, organised to introduce him to journalists and the music industry.
He decided Hendrix ought to know about a pitch-shifting device he had been developing to give electric guitars a bigger range.
Hendrix loved the Octavia and used it on classic tracks such as Purple Haze and Fire.
As "sonic consultant", Mr Mayer went to many Hendrix concerts.
"He wasn't the typical guitar player who was just staring at his shoes, he had immediate stage presence and charisma.
"He'd do all kinds of tricks like playing the instrument behind his head," he says.
At other times, Mr Mayer just hung around with Hendrix and his girlfriend, Kathy Etchingham.
"Offstage Jimi was not at all like his stage persona. Jimi was very quiet and unassuming," Mr Mayer says.
"He was very generous about inviting people to jam with him - but he liked to play board games too."
What about maintaining his visual image, which remains so well-known?
"He used to dress pretty much the same every day. Though he didn't like anyone to see him in his curlers when he was getting his hair ready. His hair was processed and curled."
"It was all very avant garde and flamboyant," he says.
"Guys couldn't take their eyes off the way he played guitar and the girls were fantasising about him as well. It was a total package really."
'Sexuality'
Photographer Gered Mankowitz was also in his early 20s when he met Hendrix at the same try-out gigs as Mr Mayer.
"After that the music business embraced him completely.
"Brian Jones had taken him shopping for clothes at Granny Takes a Trip on King's Road.
"Pete Townsend helped him buy equipment. He took the business by storm."
Hendrix came to two photo sessions at Mr Mankowitz's studio in central London.
"He looked extraordinary and unlike any other black guy I'd ever seen.
"He wore the fashion of the day as though it were made for him. He was wearing silk and velvet and lace. And he had a cloak he liked very much.
"But when I look at my pictures now he's incredibly natural. There's no make-up, no grooming as such," he says.
Mr Mankowitz took one picture in particular which still defines the singer's image.
Hendrix, hands on hips, is staring straight into the camera, wearing his famous hussar's top.
"His innate coolness and sexuality comes through. It's a powerful experience," says Mr Mankowitz.
"You do sense the man - and he let me in for that brief moment.
"But he was very funny - he laughed a lot.
"A lot of the photographs I've got were of him smiling - but they were of no interest to anybody at the time because everyone wanted to see the mean, moody, sexy man," he says.
Mr Mankowitz has been going back through his 100 or so shots for a new book and exhibition.
"I think now as a visual icon he's as well known as for his music.
"I have 12-year-old boys coming to my exhibitions who know all about him. And you see him on t-shirts even more than Che Guevara!"
'Not a diva'
Swedish radio journalist Lennart Wretlind met Hendrix only once, before a concert in Stockholm in January 1969.
But it resulted in one of the few surviving interviews with him.
"You could just turn up and there'd be no guards and no ID needed - there was a friendly atmosphere," says Mr Wretlind.
"It was very different in those days. Jimi didn't need any time to warm up: he was not a diva. He sounded totally relaxed and he came across as a nice person. He was a regular guy," he adds.
Listening to the radio interview now, Jimi Hendrix sounds the gentle, polite man recalled too by Mr Mayer and Mr Mankowitz.
All three men say they saw little connection between the performer on stage and the private man.
Aside from the sheer quality of his music, that enigmatic quality is surely why people remain fascinated by Jimi Hendrix today.
Singer Janis Joplin was to die only a few weeks after him, and Jim Morrison the next summer.
But of the three rock stars who died at the start of the 1970s, it is Jimi Hendrix whose music became the most potent shorthand for the new youth culture of the age.