Book claims Michelle Obama is living first lady 'hell'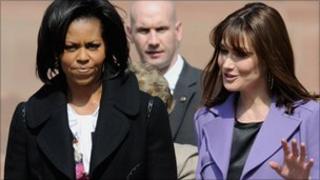 The White House has denied claims in a new book that Michelle Obama told French first lady Carla Bruni that her life in the White House was "hell".
"Don't ask! It's hell. I can't stand it," Mrs Obama was quoted as saying in a private conversation at the White House in March 2010.
"The first lady never said that," Mrs Obama's spokeswoman Katie McCormick Lelyveld said on Thursday.
A French embassy spokesman also stated that the remarks "were never said."
"Mrs Bruni-Sarkozy distances herself completely from the content of the book Carla and the Ambitious, which was not authorised and the authors alone are responsible for its contents," embassy spokesman Emmanuel Lenain said on Thursday.
White House spokesman Robert Gibbs used his Twitter feed to refer reporters to Mr Lenain's statement.
The book also alleges that French president Nicolas Sarkozy would be satisfied being a one-term president.
The authors claim Ms Bruni suggested that Mr Sarkozy should give more thought to making money.
A friend quoted in the book says Mr Sarkozy and Ms Bruni have been "impressed and inspired" by former British Prime Minister Tony Blair's ballooning wealth since he left office.