Number of Americans living in poverty 'increases by 4m'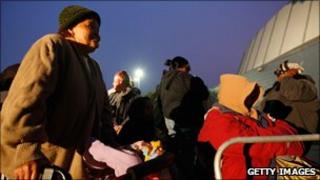 One in seven Americans was living in poverty in 2009 with the level of working-age poor the highest since the 1960s, the US Census Bureau says.
The number of people in poverty increased by nearly 4m - to 43.6m - between 2008 and 2009, officials said.
The bureau defines poverty as any family of four living on less than $21,954 a year.
Meanwhile, new figures showed home foreclosures in August hit the highest level since the mortgage crisis began.
Banks repossessed 95,364 properties in August, up 3% from July and an increase of 25% from August 2009, said RealtyTrac, a company which charts the national picture.
The official US poverty rate in 2009 rose to 14.3% from 13.2% in 2008. In 2009, 43.6 million Americans lived in poverty, up from 39.8 million the year before, the third consecutive increase, the bureau said.
The poverty figure is not a relative measure as many in Europe are, but looks simply at the amount of money going into a household.
The BBC's North America editor Mark Mardell says that in many ways the foreclosure figures will be more disturbing to Americans, as it was hardly surprising that poverty was rising last year while the economic crisis continued to bite.
The bureau's report - Income, Poverty, and Health Insurance Coverage in the US: 2009 - covers President Barack Obama's first year in office.
It indicates Americans of Asian origin are the richest, while black people are the poorest.
In a statement, Mr Obama said the report "illustrates just how tough 2009 was".
"Our economy plunged into recession almost three years ago on the heels of a financial meltdown and a rapid decline in housing prices. Last year we saw the depths of the recession, including historic losses in employment not witnessed since the Great Depression," he said.
The number of people in poverty in 2009 was the largest in the 51 years for which the US government has been publishing estimates.
The figures show a sharp rise in poverty since the beginning of the US recession in December 2007.
Among the working-age population, ages 18 to 65, poverty rose from 11.7% to 12.9%, the highest level since the 1960s.
Meanwhile, the number of Americans without health insurance increased by 4.4m from 2008 to 2009, the Census Bureau said.
The share of Americans without health coverage rose from 15.4% to 16.7% - or 50.7 million people - mostly because of the loss of employer-provided schemes during the recession.
The insurance figures cover the year before the Democrats passed a major overhaul of the US health care system, the main provisions of which come into effect in 2014.
The economy has emerged as the key issue in the November mid-term elections, with Republicans attacking Mr Obama and the Democrats' stewardship, and the Democrats defending their record amid the slow recovery.