Body parts found in shark 'belong to missing sailor'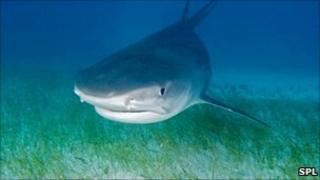 Body parts which were found inside a shark appear to belong to a man who disappeared off a Bahamas beach where one of the Jaws movies was filmed.
Police say fingerprints match those of Judson Newton, who swam for shore after his boat broke down in August.
The 3.6-metre (12ft) tiger shark was caught on 4 September by a local investment banker who was deep-sea fishing.
Whilst reeling it in, he said he saw a leg poking out of the shark's mouth.
After cutting the creature open, defence force officers found a torso, two severed arms, and a right leg.
Authorities say they are still waiting for DNA tests to confirm they belong to Newton.
'Strong swimmer'
The 43-year-old had been out boating with friends off New Providence Island on 29 August when their boat stalled. He and one other friend decided to swim to land to find help, but neither was seen again.
The three other men were found aboard the boat by a rescue crew.
Samuel Woodside, one of Newton's friends, said Newton was a "strong swimmer", so he had been surprised when he had been told that his friend had probably drowned.
He said that Newton, who worked as a sailor on cargo boats and also as a chef, would go fishing most weekends to different spots.
"Anywhere where he could get a fishing line, he would go there," he told AP.
New Providence Island was used for filming some scenes of The Revenge, the last in the Jaws series, in 1987.