Louisiana fish deaths raise oil spill questions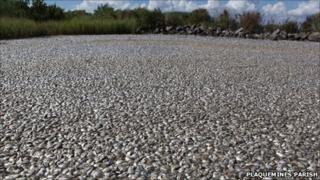 Officials in Louisiana's Plaquemines Parish have called for an investigation after finding hundreds of thousands of dead fish near the Mississippi River.
The Plaquemines Parish Inland Waterways Strike Force claims oil was spotted in pictures of the dead fish.
The group is now attempting to find if the BP oil spill was connected to the incident, known as a "fish kill".
The cause of the fish kill has not been determined, but such events typically happen due to depleted oxygen levels.
The types of fish affected at Bayou Chaland, near the mouth of the Mississippi River, include pogies, redfish, drum, crabs, shrimp and freshwater eel, Plaquemines Parish officials said.
A dead baby whale was also found close to the site earlier this week.
The Plaquemines Parish Inland Waterways Strike Force is an emergency response team that works under the direction of Plaquemines Parish President Billy Nungesser.
Mr Nungesser has asked the National Oceanic and Atmospheric Administration and the Environmental Protection Agency for "extensive testing" to be done on the dead fish.
Plaquemines Parish officials have also asked the Louisiana Department of Wildlife and Fisheries why so many fish were killed in the area.
"We can't continue to see these fish kills. We need some additional tests to find out why these fish are dying in large numbers. If it is low oxygen, we need to identify the cause," said Mr Nungesser.
BP's Deepwater Horizon oil rig exploded off the coast of southern Louisiana in April, killing 11 people and leaking an estimated 4.9m barrels of oil into the Gulf of Mexico.
The Plaquemines Parish area was heavily affected by the spill.
Oxygen levels
Ed Overton, an environmental scientist at Louisiana State University, said warm temperatures and a lack of wind can rob water of oxygen and in turn cause fish kills in late August and early September.
But Mr Overton questioned whether the BP spill had played a role in the mass fish deaths.
"It is improbable, not impossible, that this is the result of oil toxicity," Mr Overton said.
"The oil that's in the shoreline right now doesn't have a lot of the volatile components."
But Mr Overton conceded that bacteria in these types of waterways can use up oxygen when degrading oil, which can then affect fish.