Barack Obama to publish children's book Of Thee I Sing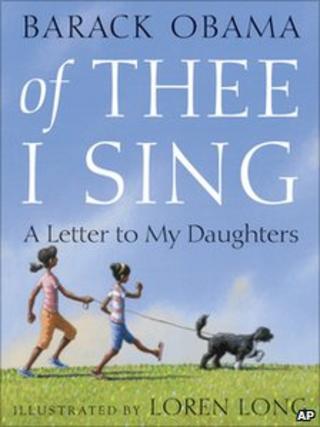 US President Barack Obama has written a children's book which is to be published on 16 November, two weeks after Congressional mid-term elections.
The book - Of Thee I Sing: A Letter To My Daughters - was written before Mr Obama took office in January 2009.
The 40-page book pays tribute to 13 Americans, from the first President George Washington to baseball legend Jackie Robinson.
Mr Obama has already published two books which have become best-sellers.
The cover of his new book is an illustration of his two daughters, Sasha and Malia, walking their dog Bo.
Proceeds from the book are to go to a scholarship fund for the children of soldiers killed and disabled in wars.
Million-dollar earners
It is being published by Random House, which signed a three-book deal with Mr Obama in 2004, Associated Press news agency said.
The head of Random House's children's division, Chip Gibson, said Of Thee I Sing "celebrates the characteristics that unite all Americans - the potential to pursue our dreams and forge our own paths.
"It is an honour to publish this extraordinary book, which is an inspiring marriage of words and images, history and story."
Mr Obama's 2006 political manifesto, The Audacity of Hope, was the first of the three books under the Random House contract.
The other is yet to be published.
The president's other book, the autobiographical Dreams From My Father, was published in 1995.
Mr Obama and his wife Michelle declared joint earnings of $5.5m (£3.6m) in 2009, mainly from book sales