Explosion injures six workers at US flare factory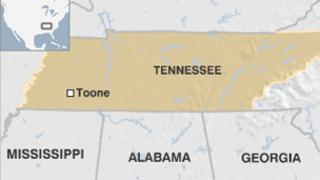 A fire continues to blaze at a factory in Tennessee that produces flares for the US military, after an earlier explosion injured six workers.
Firefighters in Toone are allowing the fire to burn itself out at the Kilgore Flares Company building.
"I just think there's a possibility of another explosion," said Hardeman County Sheriff John Doolen.
It is still unclear what caused the blast, but the authorities said they had ruled out terrorism.
A spokesman at the Regional Medical Center in Memphis said two women and one man from the plant were in a critical condition.
Kilgore, which is now owned by UK-based Chemring Group, was started in 1920 and became a military contractor during World War II.