Koran burning 'would be disaster' NY imam warns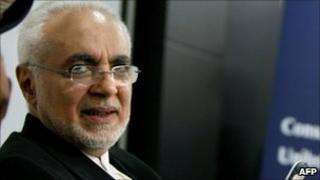 The New York imam leading efforts to build an Islamic centre near the World Trade Center site says plans by a small US church to burn Korans would have sparked "a disaster".
Feisal Abdul Rauf told ABC News that the event - now called off - would have "strengthened radicals".
Rallies for and against the proposed centre marred the 9/11 commemorations.
Meanwhile, two people died in eastern Afghanistan as protests sparked by the threatened book burning continued.
Security forces opened fire when some demonstrators tried to storm the district governor's office in Baraki Barak, in Logar province, on Sunday.
Protests have erupted across the Muslim world since Florida Pastor Terry Jones announced plans to burn Korans outside his church to mark the 9/11 attacks.
Mr Jones said he cancelled the event because those behind the Islamic centre near Ground Zero had agreed to relocate it - a claim denied by Mr Rauf.
"How can you equate the burning of any person's scripture with an attempt to build inter-faith dialogue?" Mr Rauf told ABC.
"This is a house with multi-faith partners, intended to work together towards building peace."
He said burning the Koran would have sparked "a disaster" in the Muslim world.
"It would have strengthened the radicals. It would have enhanced the possibility of terrorist acts against America and American interests," he said.
The group led by Mr Rauf hopes to turn an abandoned building into a community centre and prayer space.
Supporters say it will include facilities for all religions and be a place for reconciliation between faiths.
But critics say the centre is an insult to those killed in the 2001 attacks.
Mr Rauf said the intense debate over the New York centre had stoked anti-Muslim feeling across the US. He said he believed fear of Islam was possibly greater now than just after the 9/11 attacks.
Islamic centres in California and Texas have been vandalised and the site of a planned mosque in Tennessee has been set on fire.
"How else would you describe the fact that mosques around the country are now being attacked?" Feisal Abdul Rauf told ABC.
"We are Americans, too," he said. "We are doctors. We are investment bankers. We are taxi drivers. We are store keepers. We are lawyers. We are... part of the fabric of America."