How Koran burning story grew from obscurity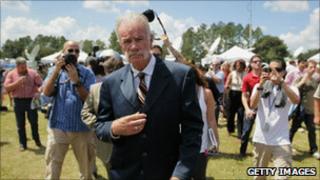 Pastor Terry Jones runs a church so small his entire congregation could fit onto a single bus. He is essentially the leader of a fringe movement.
Normally, the mainstream media does not cover the activities of obscure figures who are simply trying to grab attention. So how is it that Mr Jones's threat to burn copies of the Koran has come to preoccupy the world's attention?
The story began quietly in mid-July, when Mr Jones' Dove World Outreach Center in Gainesville, Florida announced that it would hold an "International Burn a Koran Day" on 11 September. A Facebook page advertised the event.
On 17 July, Wayne Sapp, a colleague of Mr Jones, posted a video on YouTube outlining the church's plans. In order to make his point, the video included pictures of a single copy of the Koran in flames.
First news account
Mr Jones and his small group of followers did not appear to represent anyone apart from themselves. They seemed to illustrate no particular overarching trend in American society, and at that point, the Koran-burning story was of limited national media interest. It was mostly picked up by local news organisations, specialist publications, and campaign groups.
On 21 July the Religion News Service posted what may have been the first news piece on Mr Jones's plans, a straightforward account of his intentions. Soon after, a Jacksonville, Florida CBS television news affiliate covered the story.
That report was picked up six days later by the Council on American-Islamic Relations, an advocacy group. The organisation linked to the TV news report on its YouTube page and called on American Muslims to respond with educational "Share the Koran" events.
Other activists posted their own passionate thoughts onto YouTube, among them British group Campaign Islam.
It is clear that at that point, campaigners in America and abroad were paying close attention to the story. But Mr Jones' Koran-burning plans had yet to make the headlines of the mainstream media. Still, he was sufficiently well known to provide a colourful, provocative voice in pieces about extreme views of Islam in the US.
On 31 July Mr Jones appeared to get his first substantial national exposure with a live interview on CNN. On 25 August, BBC News Online incorporated him into a larger story about religious conflict. At the same time, the New York Times ran an article about Mr Jones. He told the newspaper he had done interviews with 150 media outlets around the world.
Then, on 4 September, the story began to change. An Islamist group held a demonstration outside the US embassy in Jakarta, the Indonesian capital. The protest appeared to be the first mass demonstration provoked by Mr Jones's plans, but it received only limited coverage in the international media.
Government figures speak
On 6 September, several hundred demonstrators protested in Kabul, the Afghan capital. Several threw stones at US Army vehicles. The protest in Kabul appeared to mark a significant turning point in the story: Mr Jones was no longer an obscure figure in search of attention, but had provoked demonstrations against America in two different Muslim-majority countries. His Koran-burning plans had become an issue of US national security.
At this stage, the US government had a decision to make. Should it ignore Mr Jones or make its concerns public? By ignoring him, the government could have hoped to keep the story from escalating. But keeping quiet would not have stopped the Koran burning event, and Muslim demonstrators may have seen in US government silence official approval of the act.
So government figures spoke up.
In an email to the Associated Press news agency after the Kabul demonstration, US military commander in Afghanistan Gen David Petraeus wrote: "Images of the burning of a Koran would undoubtedly be used by extremists in Afghanistan - and around the world - to inflame public opinion and incite violence."
Significantly, he did not play down Terry Jones as fringe leader whose exploits should be ignored, but said his plans could have a real impact around the world.
The general then gave the same message on camera, enabling television news channels to broadcast his words. Media organisations believed that Gen Petraeus's public intervention gave them sufficient justification to run the story prominently.
In the 48 hours after Gen Petraeus first spoke, his comments were reinforced by White House Press Secretary Robert Gibbs, Attorney General Eric Holder, Secretary of State Hillary Clinton, and finally by President Barack Obama himself. None dismissed Mr Jones's Koran-burning plans as insignificant or unworthy of news coverage.
Mr Jones may be a fringe figure who represents no one but himself and a handful of followers. But history shows that those on the margins can have a real impact on world events. And for that reason, everyone pays attention.