US judge rules military ban on gays 'unconstitutional'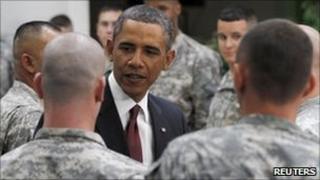 A federal judge in California has ruled that a ban on homosexuals serving openly in the US military is unconstitutional.
The judge said the law violated fundamental First Amendment rights.
The law allows gay and lesbian soldiers to serve if their homosexuality is not known but suspends them if it is. It is referred to as "don't ask, don't tell".
The latest case was regarded as a major test for the law, which President Barack Obama says he would repeal.
On Thursday, US District Judge Virginia Phillips granted a request for an injunction halting the policy.
She said the law did not help military readiness, but had a "direct and deleterious effect" on the armed services.
The Obama administration has promised to introduce legislation repealing it.
It has also announced that the repeal would not be implemented until after the Pentagon completed a review of its impact on the armed forces.
In the past, the issue of gays in the military has divided opinion in the US.
But most Americans now accept openly gay servicemembers, according a recent Gallup poll.