City tries to shake off 'embarrassment' of Koran-burning church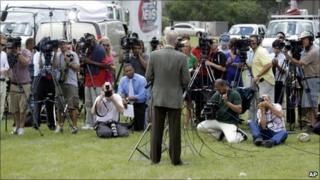 Many residents of the US city that could see a public bonfire of Korans say they feel embarrassed by the attention given to the initiative of the tiny Protestant church and reject any suggestion that it might be representative of the community.
The Dove World Outreach Center, a non-denominational church, plans to burn copies of the Koran on the anniversary of 9/11.
The move that has gained worldwide attention despite the fact that the church, in Gainesville, Florida has a congregation of just 50 members.
Gainesville is home to 130,000 people and is proud of its reputation for cultural diversity and tolerance.
Mayor Craig Lowe, a Democrat who is openly homosexual, does not hide that he is "concerned" that the church could hurt the University of Florida's recruiting efforts.
He was himself targeted by the congregation, which posted a sign reading "No homo mayor" outside its church during the mayoral election campaign.
"Our community has worked very hard for years to ensure that everybody is welcome," Mr Lowe says.
In a statement, he said the church was a "tiny fringe group and an embarrassment to our community".
"They are opposed [to] Gainesville's true character as a place that values every person."
So Mr Lowe has declared 11 September as Interfaith Solidarity Day, and will join a rally organised as a counterpoint to the Dove demonstration.
'Well integrated'
Gainesville has been ranked by some magazines and guides as the best city to live in the US, partly because of its "enjoyable sense of community". It is also home to a 2,000-acre campus housing the University of Florida.
Local newspaper The Gainesville Sun said in an editorial that on its daily opinion pages, "letters condemning Dove's Koran-burning plan have far outnumbered those supporting the group".
Many residents say that they have never witnessed any act of hate or intolerance in the city.
Sarah Thompson, 23, a student of architecture at the University of Florida, said that she had never heard comments against Muslims in Gainesville.
James William, 57, an African-American who has lived in Gainesville all his life, said he had never experienced any racism against him.
Initiatives to support the local Muslim community have spread in recent days.
Gainesville churches are planning a variety of interfaith activities of their own, including common readings of the Koran, Christian and Hebrew scriptures.
The imam of one of the two local mosques, Ahmed el-Mahdawy, 60, said he has asked his followers not to demonstrate against the church, to avoid building up tensions.
Instead, he has suggested local Muslims spend the day serving food to the homeless, or performing blood pressure checks.
"The Muslim community is well integrated in Gainesville", said Mr el-Mahdawy, who is also an engineer. "Sixty per cent of our members are professors, scientists and business people.
"Our job as Muslim Americans is to show the rest of the Muslim world that this pastor doesn't represent the real America, the America that we have so far experienced."