US pastor has 'no intention' of stopping Koran bonfire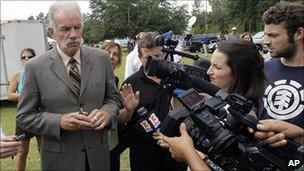 A US pastor says he is not "backing down" from plans to burn copies of the Koran on the anniversary of 9/11, despite international outrage.
"We are not convinced that backing down is the right thing," said Terry Jones of 50-member Florida church, the Dove World Outreach Center.
The group's plan has sparked condemnation from Muslim countries, Nato and the top US Afghan commander.
US Secretary of State Hillary Clinton called the plan "disgraceful".
On Monday General David Petraeus, the top US commander in Afghanistan, warned troops' lives would be in danger if the church went through with its bonfire.
US Attorney General Eric Holder called the idea "idiotic and dangerous".
But the organiser, Pastor Terry Jones, said on Wednesday that his plan to burn the Islamic holy book is intended to draw attention to his belief that "something's wrong."
"It is possibly time for us in a new way to actually stand up, confront terrorism," Mr Jones told reporters outside his church.
He acknowledged Gen Petraeus's concerns, but claimed to have been contacted by a special forces officer who told him US troops were supportive of his plan.
"So on September the 11th we shall continue with our planned event."
Muhammad Musri, an imam who leads the Islamic Society for Central Florida, was present during Mr Jones's statement and later went into the church to speak with him.
Mr Musri told reporters he had asked him to call off the burning, quoting Bible verses.
"I strongly believe at the end of the day he will make the right step and call off the event," he said.
The controversy comes at a time when the US relationship with Islam is very much under scrutiny.
There is heated debate in the country over a proposal to build a mosque and Islamic cultural centre streets from Ground Zero, site of the 9/11 attacks, in New York.
The Vatican, the Obama administration and Nato have also expressed concern over the plan.
Nato chief Anders Fogh Rasmussen told reporters that burning Korans violated the alliance's "values".
Muslims consider the Koran to be the word of God and insist it be treated with the utmost respect. Any intentional damage or show of disrespect to the holy book is deeply offensive to them.
An interfaith group of evangelical, Roman Catholic, Jewish, and Muslim leaders meeting in Washington on Tuesday condemned the proposals as a violation of American values and the Bible.