Canadian hiker, 86, found after four days in the bush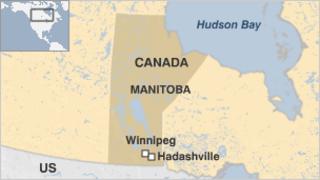 An 86-year-old hiker has been found alive after surviving four days lost in the bush in Canada's Manitoba province.
Joseph Kuz was found on Monday morning dehydrated, cold and fatigued in a heavily wooded area near Hadashville.
"He's a tough old bear," his nephew Myron Lamaga told Canadian media. "I was very confident he'd make it."
Mr Kuz had planned to hike overland on Thursday from the Trans-Canada highway to Mr Lagama's house but tired after heading straight through the woods.
Royal Canadian Mounted Police Sgt Mike Hengen came upon Mr Kuz when his ATV became stuck in the search area and he heard moans.
"He was very fatigued and dehydrated and hungry," Sgt Hengen told the Winnipeg Sun newspaper. "I don't think he had anything to eat or drink since he went into the bush. It's very remarkable he survived. It's unbelievable. But it was his good physical condition and his will to survive."