Flash flood alert as Tropical Storm Hermine hits Texas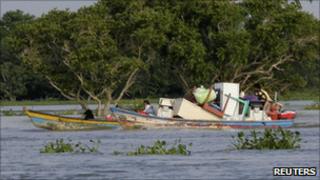 Tropical Storm Hermine threatens to bring flash floods as it pushes through Texas into Oklahoma and Kansas, officials say.
Officials warned of heavy rain, even as the storm's move inland saw its top wind speeds decline.
By Tuesday morning Hermine had brought havoc to the US-Mexico border, knocking out power and causing landslides and major flooding.
The storm's maximum sustained winds declined to 45mph (75km/h).
Hermine, the eighth named storm of the 2010 Atlantic hurricane season, left most of Raymondville, Texas without power and tore the roofs off houses there.
Officials in Mexico's northern Tamaulipas state earlier evacuated some 3,500 people ahead of the storm's arrival.
"We urge the general population to be on alert for possible floods and mudslides," Salvador Trevino, director of civil defence for Tamaulipas, told the Associated Press news agency.
Sustained winds declining
Hermine dumped between 5 inches to 1ft (12cm to 30cm) of rain onto southern Texas late on Monday.
Schools on both sides of the Mexico-US border were closed on Tuesday.
Authorities predicted they would downgrade the storm to a tropical depression later in the day.
But officials at the US National Hurricane Center (NHC) said the storm's remnants would drench central and eastern Oklahoma, to the north of Texas, before heading into Kansas, Arkansas and Missouri.
The NHC said heavy rain could cause "life-threatening" flash floods.