West Bank settlement freeze will end - Israeli minister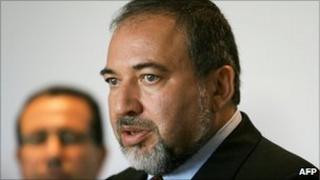 The Israeli foreign minister says he will block any attempt by the coalition government to extend the partial freeze on settlements in the West Bank.
Avigdor Lieberman said his hard-line Yisrael Beitenu party was powerful enough to defeat any such proposal.
The Palestinian Authority has said it will not continue US-sponsored peace talks - the first in almost two years - if settlement building resumes.
The partial freeze is due to expire later this month.
Israeli Prime Minister Benjamin Netanyahu has not yet indicated how he intends to handle the 26 September deadline.
Direct peace talks resumed in Washington on Thursday with the target of reaching a deal within a year.
Mr Netanyahu is due to meet Palestinian leader Mahmoud Abbas for a second round of talks next week in Egypt.
Meanwhile, the Hamas militant group which controls the Gaza Strip says the Palestinian authorities in the West Bank have detained another 35 of its members, following attacks by Hamas's armed wing that left four Israeli settlers dead and two others wounded.
Hamas said the latest arrests took the number of its members detained since last week's attacks to 750.
Israel had demanded that the Palestinian Authority take action against Hamas, and has said that the recently relaunched peace talks must involve further moves to protect Israeli security.
Peace deal 'not possible'
In an interview with Israeli Army Radio on Sunday, Mr Lieberman - who lives in a settlement himself - said there was "no need to extend the freeze".
"Yisrael Beitenu has enough power in the government and in parliament to ensure that no such proposal succeeds," he said.
His nationalist party is the second largest faction in the governing coalition after Mr Netanyahu's right-wing Likud party, which also opposes any extension.
On Sunday, Mr Lieberman reportedly brushed off the latest round of talks, from which he has been largely sidelined.
"I do not believe that a comprehensive agreement with the Palestinians is possible within a year, nor even during the next generation," he said, according to army radio.
Prime Minister Netanyahu has said the settlement issue should be discussed alongside other core disputes, including the final status of Jerusalem and the fate of Palestinian refugees.
Some 300,000 Israelis live in West Bank settlements, among the territory's 2.5 million Palestinians.
They are considered illegal under international law, although Israel disputes this.
Mubarak pledge
Meanwhile, Egyptian President Hosni Mubarak has spoken in favour of peace talks in a televised address.
"We [Egypt] are determined to continue our efforts until a just and honourable peace agreement is reached, that brings security for all, ends occupation, places the Middle East on a new track and sets up an independent Palestinian state, with East Jerusalem as its capital," he said.
Mr Mubarak said solving the conflict was central to the region's security.
"The Palestinian issue will continue to be the key to our regional security and the approach to solve the rest of its crises and problems," he said.
He delivered his address as Washington announced that the US Secretary of State, Hillary Clinton, would attend the next round of direct talks later this month in the Egyptian resort of Sharm el-Sheik.