'No oil leaking' from exploded Gulf of Mexico platform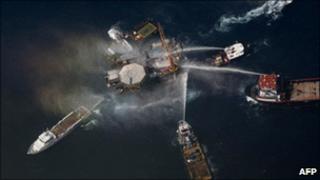 No pollution has leaked from a Gulf of Mexico oil platform that exploded in flames and sent 13 workers escaping into the sea, inspectors have said.
Officials with the US offshore drilling regulator said they inspected the Mariner Energy platform and confirmed all valves and pipelines were closed.
The finding contradicts initial reports of a mile-long sheen on the ocean.
But the incident has provoked criticism that lessons were not learned from the BP Deepwater Horizon disaster in April.
The fire on Thursday started on an upper deck of the platform where living quarters were, a company official said.
All 13 crew of the Vermillion 380 platform escaped into the water and were rescued after about two hours. Fire ships extinguished the blaze several hours later.
Officials with the Bureau of Ocean Energy Management, Regulation and Enforcement (BOEMRE) said they would continue to investigate the source of the blaze.
The explosion came four months after a blast ripped through the Deepwater Horizon oil rig leased by BP, causing hundreds of millions of gallons of oil to be released into the Gulf of Mexico.