Tennessee mosque fire 'was arson', investigators say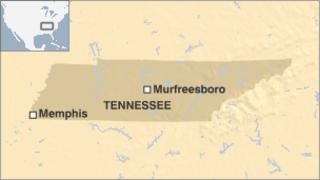 A fire that damaged construction equipment at the site of a Tennessee Islamic centre has been ruled arson.
Officials in Murfreesboro have offered a $20,000 (£13,000) reward for help finding the person they say doused a lorry in diesel and then ignited it.
The FBI said it had yet to determine whether the fire was a hate crime and would not say if it has any suspects.
Saturday's incident came amid growing anti-Muslim animosity and opposition to new mosque building across the US.
The Islamic Center of Murfreesboro has outgrown its current space and is constructing a new campus.
Mosque leaders note Muslims have lived and worshipped in Murfreesboro without any problems.
But anti-Muslim protests have risen in recent months, provoked in part by opposition to a developer's plans to build an Islamic community centre near the site of the World Trade Center in New York City.