Labour recruiters 'trafficked Thai workers' to Hawaii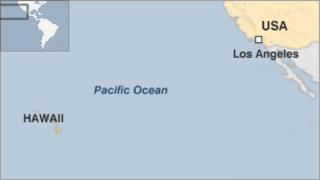 Six recruiters have been accused of luring 400 Thai workers to the US with promises of jobs, confiscating their passports and demanding high fees.
The US justice department said they refused to honour the workers' contracts, threatening "economic harm".
The defendants are accused of confining workers at a Hawaii pineapple farm and demanding a $3,750 (£2,433) fee.
The US said the recruiters threatened to send them back to Thailand, knowing they faced debt to finance the US trip.
The accused include Mordechai Orian, an Israeli national; Pranee Tubchumpol, Shane Germann and Sam Wongsesanit of Global Horizons Manpower Inc; and Thai labour recruiters Ratawan Chunharutai and Podjanee Sinchai.
"In the old days, they used to keep slaves in their places with whips and chains. Today it's done with economic threats and intimidation," FBI Special Agent Tom Simon told the Associated Press news agency.
Economic harm threats
The group were indicted by a grand jury in Hawaii.
The justice department said between May 2004 and September 2005, the group took high fees from the workers, which they had financed with loans secured by family property in Thailand. In return, the recruiters promised the labourers guest worker jobs on US farms.
When the workers arrived in the US, the recruiters confiscated their passports and did not honour the terms of the employment contracts, forcing them to work at farms in Hawaii, Washington state and elsewhere, the US justice department said.
Workers who refused to pay additional fees demanded by the recruiters were sent back to Thailand, where they faced debt incurred to pay the recruitment fees, the justice department said.
The recruiting agency, Los Angeles-based Global Horizons Manpower Inc, did not immediately comment on the indictment.
If convicted, the recruiters face between five and 70 years in prison, the justice department said.