BP Gulf of Mexico oil spill blowout preventer 'removed'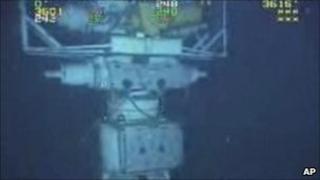 BP has replaced a damanged blowout preventer that failed to stop oil from leaking into the Gulf of Mexico when a drilling rig exploded in April.
The 300-ton device will be examined as part of the inquiry into the leak of 206m gallons of oil into the Gulf.
The company said it had spent $8bn (£5.2bn) in clean-up costs and compensation to Gulf residents.
Meanwhile, BP have said a ban on offshore oil drilling may impede its ability to pay for the damage.
Plans to seal the well permanently were progressing well, BP said.
The final sealing of the well is now expected to be completed later this month.
Cash flow threatened
On Friday, retired Coast Guard Admiral Thad Allen, the US government's incident commander, said the damaged blowout preventer had been successfully replaced by a new one, and there had been "no observable release of hydrocarbons from the well head" during the operation.
The damaged machinery is being raised to the surface slowly, so as not to damage it further.
He said the operation was "an important milestone" towards permanently blocking the leaking well, which caused one of the worst environmental disasters in history.
BP has pledged $20bn to compensate Gulf residents harmed by the spill, and has pledged millions more to study the spill's environmental impact and to promote tourism in the Gulf Coast states affected by the spill.
But company officials have said the moratorium on offshore oil drilling, put into place by the Obama administration, had harmed its cash flow.
"If we are unable to keep those fields going, that is going to have a substantial impact on our cash flow," David Nagel, executive vice-president for BP America, told the New York Times.
The moratorium "makes it harder for us to fund things, fund these programmes."