Miami airport evacuated after suspect baggage alert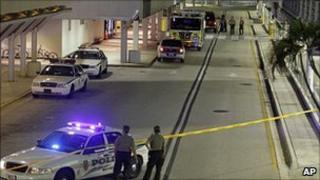 A passenger was detained and four of Miami International Airport's six concourses were evacuated on Thursday after a suspicious item was spotted in a checked bag during screening.
The US Transportation Security Administration (TSA) declined to identify the item, detected at 2100 local time (0100 GMT).
"The passenger was located and is now in law enforcement custody," said the TSA in a statement.
The passenger has not been named.
Between 100 and 200 passengers were evacuated from terminals E, F, G and H during the security alert, according to an airport spokesman.
Bomb squad officers were called to investigate and remained at the airport overnight, he added.
Flights continued to arrive but were diverted to other parts of the airport, the spokesman said.
All four concourses re-opened on Friday morning, he confirmed.