Atlantic Beach hosts hurricane parties as Earl nears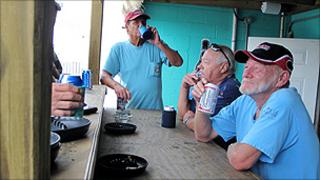 As Hurricane Earl raged on the seas south-east of North Carolina, the coastal town of Atlantic Beach felt deserted.
A few surfers braved the huge crashing waves. Locals say that at this time of year, surfers travel from all over the country to catch the massive swells of North Carolina's hurricane season.
But the conditions on Thursday were extremely rough. Not a swimmer was in sight, and the tide left very little sand left to walk on as it rushed in.
Tourists had fled inland, the local supermarket was boarded up and the ice cream shops hadn't bothered to open.
Still, the quiet on the street was a little misleading.
Talk to the locals here and most of them will tell you, with a tone of cautious excitement, that Earl had provided the perfect excuse for a long-standing Outer Banks tradition: the hurricane party.
But folks here were not taking Earl - a potentially dangerous category three hurricane whose winds are buffeting an area the size of the state of California - lightly.
For residents of coastal North Carolina, hurricanes are part of the deal, so they say they are always prepared.
Many have generators, access to water wells, hot water pumps and a stockpile of essentials.
Some say cheekily that preparations for the storm include a grill, some ribs, beer and a generator, and they say the party starts as soon as the pub closes.
"We've invited people over until the power goes out," said Daniel Taylor of nearby Morehead.
Roaming hurricane party
"It's a day off," joked Aaron Gallaher, a bartender at Howard's Pub on Ocracoke Island.
"We've got the island to ourselves."
Mr Gallaher and his friends planned to have roaming party, heading from place to place until conditions forced them to take cover.
"The only thing you can do is prepare yourself," Mr Gallaher said. "We're expecting 90-100mph winds. For us out here it's not that bad."
"In the 140mph and 150mph range, that's when you need to get out of dodge. That's when houses start falling down. Tonight will just be an uncomfortable night with not much sleep."
The staff at the Tackle Box, a pub less than 100 yards from Atlantic Beach decided to throw a Hurricane Party complete with $3 Hurricane Earl and Hurricane Fiona mixed drinks.
They sent out an invitation on Facebook, and when bartender Meredith Rouse turned up to work at 1000, a small but eager crew was already there.
"We'll stay open till the cops shut us down," Ms Rouse said.
Tackle Box owner Jimmy Butts predicted they would close up shop around 1930, but in the meantime, he planned to enjoy hurricane day.
Harrowing dip
Cliff Ackert has seen many storms like Earl bash their way up the North Carolina coast, and he was not worried about this one. He readied his house early that morning and was at the Tackle Box just after 0900.
"We'll party till the lights go out," he said.
He scoffed at any mention of Hurricane Katrina-like devastation.
"We're above sea-level," he said. "We're prepared."
Shane Williams and his father drove down from Durham, about three hours to the north-west, when they heard Earl was on its way. They wanted to swim in the rough waters and, after a harrowing dip, they headed straight to the Tackle Box to calm their nerves.
But for Thomas Daly, a lifeguard on Atlantic Beach, the day was serious business. Watching the surf like a hawk, he said extra staff and equipment, including jet skis, were on standby for emergencies.
They would be based at the local fire station, with a direct link to the Coast Guard. By early afternoon he had stopped letting anyone but a couple of surfers in the water.
"We're not even letting them get ankle deep right now," Mr Daly said, noting the strength of the undertow. He said he would pack up shop at about 1700.
"I just don't like hurricanes," he said with watchful eye on the water.
But over at Tackle Box, The Scorpions' Rock You Like a Hurricane played on the jukebox for the fourth time. And as the chorus set in, the locals happily sang along.