Tanker runs aground in Northwest Passage off Canada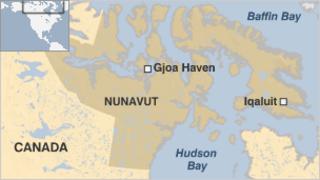 A tanker carrying 9m litres (2m gallons) of diesel fuel has run aground off the coast of northern Canada, the Canadian Coast Guard has said.
The Nanny, owned by Woodward's Oil, hit a sandbar in the Northwest Passage, near the village of Gjoa Haven in the Nunavut federal territory.
No diesel is believed to have been spilt, Coast Guard officials said.
The authorities are working with Woodward's Oil to attempt to float the tanker off the sandbar.
"At this point in time there is no pollution and no damage to the vessel," said Larry Trigatti, an environmental response official with the Canadian Coast Guard.
He said the ship, which ran aground on Wednesday, was not taking on water and that its crew was safe.
Officials said it was too early to tell when the tanker, which was supplying remote communities in the region, would be able to move again.
Its owners were said to be working on a plan to salvage the vessel.
The Nanny is a modern double-hulled product tanker, according to the coastguard.
A cruise ship exploring the Northwest Passage also ran aground last week when it hit an uncharted rock off Nunavut.
Gjoa Haven, or Uqsuqtuuq in the Inuktitut language, is the only settlement on King William Island.
The Northwest Passage is one of the most fabled sea routes in the world - the most direct shipping route from Europe to Asia through the Canadian Arctic. Historically, it is ice-bound throughout the year.