Astronaut to be first Canadian space station commander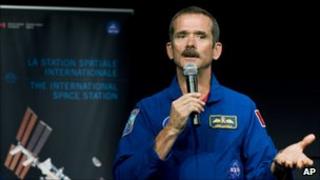 Astronaut Chris Hadfield will become the first Canadian commander of the International Space Station in 2013, the Canadian Space Agency announced.
Mr Hadfield will blast off on his third trip into space on a Russian spacecraft with five others in December 2012.
The 51-year-old will take control of the station during the second half of a six-month trip.
As commander, Mr Hadfield will be responsible for the crew's safety and operations on the station.
The veteran astronaut will also work as a flight engineer onboard the station during the first four months of the trip, while carrying out scientific experiments, robotics tasks and technology demonstrations.
During a trip to the ISS in 2001 to deliver and install a robotic arm, Mr Hadfield became the first Canadian to perform a spacewalk.