NY man jumps from 39-storey skyscraper and survives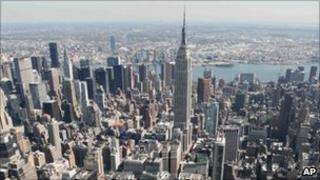 A New York City resident who jumped from the roof of a 39-storey apartment building has survived after landing in the back seat of a parked car.
Thomas Magill leaped from the Manhattan high-rise and crashed through the back windshield of a Dodge Charger.
The 22-year-old suffered a broken leg, a shattered ankle and a collapsed lung and is listed in critical condition.
Police are investigating why Mr Magill, who is undergoing surgery, jumped from the building.
Witnesses told police they saw Mr Magill falling past their windows, according to the AP news agency.
The owner of the vehicle, Guy McCormack, told the Daily News newspaper he is convinced rosary beads he kept inside the car saved Mr Magill's life.
Mr Magill is not the only New Yorker to survive a fall from a towering Manhattan building. In 2007, window washer Alcides Moreno lived after falling 47 stories from the roof of a skyscraper in the city.