NFL player Troy Polamalu gets $1m hair insurance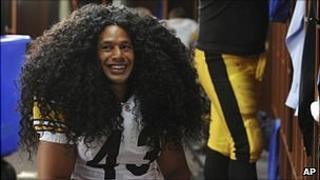 The long curly hair that sticks out of NFL football player Troy Polamalu's helmet has been insured by a shampoo company for $1m (£650,000).
Polamalu, a defender for the Pittsburgh Steelers, has been tackled at least once by his distinctive 3ft-long (1m) hair which hangs down his back.
Shampoo maker Procter & Gamble took out the policy with Lloyd's of London.
Polamalu's trademark hair has won him sponsorship deals for Procter & Gamble's brands in the US.
Information on the kind of damage covered by the policy was not released by the insurer.
Fashion
In 2006 he was grabbed by the Kansas City Chiefs' Larry Johnson and pulled down by his hair as he was running for a touchdown after an intercepted pass.
Polamalu, 29, is Samoan by descent and says he has not cut his hair since 2000.
In recent years long hair has become fashionable in the NFL, and an estimated 10% of players now have hair sticking out of their helmets.
Most are defenders, who generally do not get into positions where they could be tackled by their hair while running with the ball.
Commentators and fans have been debating the fashion for several years. It is not against the rules to pull someone down by the hair.
In 2008 the NFL's governing body considered making new rules requiring long hair to be kept under helmets away from the players names on their backs, but the suggestion was rejected.
But some players have reportedly had second thoughts about the appropriateness of their hairdos.
After Edgerrin James of the Indianapolis Colts was tackled by the hair in 2003, he turned up to training the next day with his hair shorn.