Alaska Senator Lisa Murkowski abandons re-election bid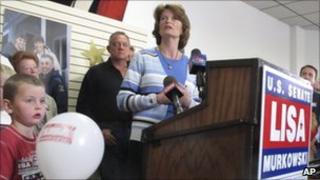 Alaska Senator Lisa Murkowski has abandoned her bid for re-election, after accepting defeat in the Republican party primary ahead of this November's mid-term elections.
She had trailed Joe Miller, supported by Sarah Palin and conservative Tea Party movement, by about 1,668 votes, since the primary a week ago.
Absentee ballots had closed the gap slightly, but it became clear that Ms Murkowski would not overtake her unknown challenger.
She is the seventh incumbent to fail to win a nomination for the mid-terms, a trend fuelled by the grass-roots activism of the Tea Party.
"I don't see a scenario where the primary will turn out in my favour," she said, even though some votes are still to be counted.
"And for that reason, and for the good of the state of Alaska ... I am now conceding the race for the Republican nomination."
Mr Miller will face Democrat Scott McAdams, a former commercial fisherman and mayor of the small town of Sitka, in November'.
Joe Miller had received the endorsement of former Alaska Governor Sarah Palin, who lauded the Gulf War veteran as a "man of the people".
Campaign funding from the Tea Party movement had helped pay for his advertising in the run-up to last week's vote.
Mr Miller, who has little political experience, had portrayed Ms Murkowski, who has been a senator for eight years, as a liberal in thrall to federal control in Washington.