California golfer's errant swing 'sparks 12-acre blaze'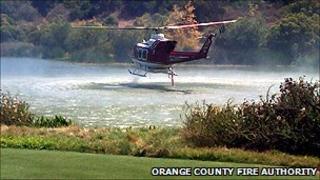 A California wildfire was sparked when a golfer trying to hit a ball out of the rough struck his club against a rock, fire officials have said.
The fire burned 12 acres on a densely wooded hill by the Shady Canyon golf course in Irvine, California.
Officials said the golfer, whose name was withheld, will not face charges over the fire on Saturday.
Southern California suffers from massive wildfires sparked in parched conditions.
Roughly 150 fire fighters responded to the blaze.
Orange County Fire Authority Capt Greg McKeown told the BBC investigators determined the cause of the fire after interviewing people at the scene.
"Personally, I've never responded to that call before," Capt McKeown said.