Faeces and flies 'found' at US egg farms tied to illness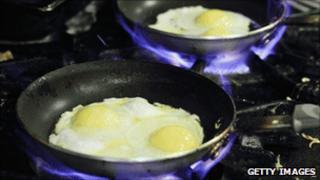 Inspectors have found manure, rodents and maggots at US farms linked to contaminated eggs, officials said.
The investigators were seeking the source of egg-borne salmonella that has sickened more than 1,500 people.
The US has recalled more than 500m eggs this month as it grapples with the largest salmonella outbreak since the 1970s. No deaths have been reported.
The Iowa egg companies said they had mostly addressed the shortcomings, identified earlier this month.
According to an inspection report released on Monday, US Food and Drug Administration officials found evidence of wild birds, mice, flies and other potential sources of contamination Wright County Egg.
'Salmonella in feed'
At Hillandale Farms, they found rodent holes and observed uncaged hens tracking manure into the houses, a report stated.
The farms sell eggs under dozens of brand names across the US.
Officials say chickens' contact with animal faeces and wildlife are among the main causes of concern as they investigate the source of the salmonella outbreak.
Health officials have said they have found salmonella in chicken feed used at the two farms.
On 13 August Wright County Egg recalled 380 million eggs distributed under more than a dozen brand names. And on 21 August, Hillandale Farms, voluntarily recalled 170 million eggs.
The massive egg recalls came weeks after a new FDA rule came into effect tightening safety rules at large producers and required testing in poultry houses for salmonella bacteria, Reuters reported.
The Food and Drug Administration has warned Americans to discard recalled eggs, and has advised people to cook all eggs thorough.
The US Egg Safety Center has information on which eggs US consumers should avoid.