Blighted town mirrors autumn storm clouds for Democrats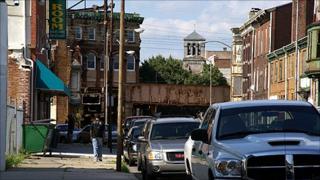 America's political summer is almost over. President Barack Obama is back at his desk in the Oval Office. Labor Day is around the corner. And someday soon the heatwaves may finally relent.
But the November mid-term elections are looming, and with them, storm clouds for the president and his party.
How different it all looked a little less than two years ago.
Back then, on 28 October 2008, with the election just a week away, the heavens opened but the candidate shone.
On the campus of Widener University, a few miles south of Philadelphia, candidate Obama braved bone-chilling conditions and driving rain to wow an audience of 12,000 with a confident, determined stump speech.
"It was raining. It was cold. Completely soaked. But it was awesome," says Rod Colon, a student who was there.
Widener University's President, James Harris, remembers asking a blind, shivering African-American man sitting behind the stage if he needed help.
Faith persists
"He looked up and said, 'I'm just fine because this is the greatest day of my life,'" Mr Harris recalls.
Many of Widener's idealistic students still say they have faith in Mr Obama's ability to deliver change, but with the economy apparently faltering and Congress unlikely to get any less partisan in the near future, the US population as a whole is rather less optimistic.
Widener sits on the edge of Chester, a town blighted by decades of decay.
A tour of the city, part of Pennsylvania's Seventh Congressional District, reveals street after street of boarded-up homes and shuttered businesses. Chester began to decline in the 1960s as its shipyards and car plants closed, and it has been a long, inexorable process.
Bill Haley and the Comets had their first headquarters here but somehow Chester failed to secure the title of the birthplace of rock and roll.
Perhaps more appropriately, jazz singer Ethel Waters was born into poverty here. Her 1933 hit Stormy Weather seems better suited, both to Chester's hard times and the difficulties faced by the Democrats heading into the November elections.
"The weather report is that the prevailing winds really seem to be blowing against the Democrats," says David Thornburgh, executive director of the Fels Institute of Government at the University of Pennsylvania.
Democrats seem unable to make political use of a number of significant legislative achievements, including healthcare reform, new financial regulation and a massive economic stimulus package, he says. Instead, they have fallen back on criticisms of the previous administration.
"If the Democratic candidates are still talking about the failed policies of George W Bush," Mr Thornburgh says, "then that would really suggest that they're replaying the tape from 2008."
Some Democrats, frustrated at their inability to demonstrate progress, may be tempted to seek refuge in the past. But not congressional candidate Bryan Lentz.
Confident Republicans
"We're in a bad way in a lot of areas," he admits amid the chaos of his lived-in campaign headquarters in nearby Springfield.
Lentz is battling to hold on to the seat being vacated by fellow Democrat Joe Sestak, who is running for the Senate.
"Our energy policy is a disaster. We have lots of work to do on healthcare," Mr Lentz says.
"We have too many people that are out of work and too many people that are nervous about the future."
But, says Mr Lentz, the Republicans are devoid of ideas.
"The question is who do you want coaching the team going forward? And the Republicans sort of want to fire the coach and hire a guy with no playbook."
In upmarket Drexel Hill, meanwhile, they're bashing the phones for Bryan Lentz's Republican rival, Pat Meehan. The two men are running close in the polls, with the Republican probably ahead.
Mr Meehan sounds confident and says he has every reason.
"Voters are very, very concerned about what's going on," he says.
Referring to Democratic House Speaker Nancy Pelosi, he says: "While there was a great deal of promise and hope, the actual implementation of the Obama-Pelosi policies has not led to the kind of prosperity that was promised."
Mr Meehan says he hopes to be part of a Republican majority in the House of Representatives after November's elections.
But the real campaigning is only just beginning. Now that he's back from holiday, Mr Obama has a couple of months to blow the storm clouds away.