Joe Biden in Iraq for US mission change ceremony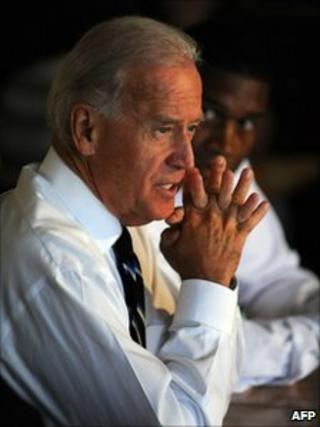 US Vice President Joe Biden is making an unannounced visit to Iraq ahead of the official end of the US combat mission there at midnight on Tuesday.
Mr Biden reassured Iraqis, saying: "They're going to be just fine."
The vice president will meet with Iraqi Prime Minister Nouri Al-Maliki.
Officials say Mr Biden will push for an end to the political deadlock that has taken hold in Iraq after the 7 March elections resulted in no clear winner.
More than five months later, a new government has yet to form. Insurgent attacks have spiked as the political situation founders.
The official purpose of Mr Biden's visit is to represent the Obama administration at Wednesday's "Change of Command and Change of Mission" ceremony, nearly seven and a half years after the invasion in March 2003.
White House address
US President Barack Obama will deliver a televised address to the American people about Iraq on Tuesday evening.
Mr Obama's remarks are intended to mark the official end of combat operations, but analysts expect him to use the opportunity to make the case for continued operations in Afghanistan.
He is also expected to stress America's continued resolve to advance stability and security for the Iraqi people.
The last US combat brigade left Iraq nearly two weeks ago.
Around 50,000 US troops will remain in Iraq and will focus on supporting Iraqi forces. They will not participate in combat missions without a request from Iraqi authorities.
The name of the US mission will change from Operation Iraqi Freedom to Operation New Dawn.