US soldiers returning from Iraq face 'invisible wounds'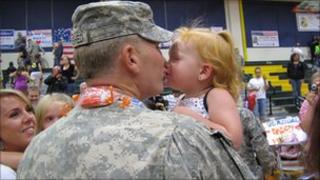 "I am just happy my daddy's coming home," said six-year-old Alyssa Evershed.
It is past 0100, and Alyssa's father is on his way home from Iraq along with about 300 members of the 4th Stryker Brigade - some of the last US combat troops to leave the country.
Hundreds of family members gathered in a gymnasium room in Joint Base Lewis-McChord, and several mothers balanced a child with one arm and a handmade welcome sign with the other.
The room soon filled with hugs and tears, and in some cases, fathers watching their children walk for the first time.
As he embraced his wife and two children, Sgt Jason Evershed was just glad to be home. "It's been a long year. It's been a really long year," he said.
His wife, Courtney, could not fight back her tears.
"I am just relieved I don't have to worry about him anymore and that he'll be coming home every night," she said.
This brigade were part of the 2007 troop surge, but on their return they were not talking about the war in Iraq or who could declare victory.
They were talking about going to Disneyland, hosting barbecues and looking for new apartments.
Alyssa had asked for "daddy and a puppy" for her birthday.
"She got one of two wishes," joked her mother.
Honeymoon period
As troops return home from 12 months of deployment, experts warn of what many refer to as "the invisible wounds".
Depression, isolation, stress, anger, divorce and suicide are just part of the emotional challenges facing some of the troops.
Scott Swaim, a Gulf War veteran and a therapist at Spring Valleys in the US state of Washington, says when troops first come home they initially go through "the honeymoon period"
But the images of horror many of them have seen are not memories they can easily leave behind.
"The depression is huge and suicide rates are off the charts," says Mr Swaim.
"Because there's a lot of stigma with mental illness. A lot of people never understand it and in the military there's a double stigma - we're soldiers, not victims," he adds.
Just this month a US Department of Defense task force reported that between 2005 and 2009, more than 1,100 members of the Armed Forces committed suicide.
Mr Swaim says troops may find it very hard to speak about their experiences. "How do you describe the aftermath of an IED explosion?"
"I used to sleep next to a generator during the war so when I came back home, I had to sleep near a fan because I was used to the white noise - that drove my wife crazy!" he says.
And though Mr Swaim says many troops exhibit clear behavioural changes such as anger and irritation, he admits "with suicide you don't always know".
"It's hard to recognize those signs. They're there, but how much? You don't know what's going on in their mind and that's the scary thing," says Mr Swaim.
Unexpected tragedy
Just a few miles away from the emotional reunion of the military families at Fort Lewis, Washington, veteran Joseph Ramsey was wishing he was there to hug his own son David.
Instead, Mr Ramsey recalls that day on 7 September 2006 when his now former daughter-in-law called him at work to say, "David shot himself."
Army Specialist David Ramsey had been medevaced to Fort Lewis two weeks earlier after serving ten months as a hospital nurse in Mosul, Iraq.
While in Iraq, his medical records show he had pointed an unloaded gun at his chest and pulled the trigger. He abandoned his suicide attempt, sought help and was admitted to hospital for counselling.
As a result, his tour of duty ended a few weeks ahead of schedule. His father was not told of the suicide attempt.
Mr Ramsey says nobody from the military checked up on his son upon his return.
Spc Ramsey was staying with his parents while going through a divorce.
"At first, I didn't believe it," says his father with a voice choked with emotion.
"I left work and came home. Then I saw his car in the driveway - I start calling him, no answer. I ran upstairs, and he's laying on the bed. He's shot himself," he says.
"He was still alive when I found him. The only thing he could say was, 'I'm sorry, Dad. I didn't mean to hurt nobody.' But I tried to get help, and I just wasn't getting it. Within minutes, he passed away."
The military had given Spc Ramsey a drug to treat sleep problems and did not inform the family of his suicide attempt, his father said.
While in Iraq, Spc Ramsey told his father about his concern for seeing Iraqi children being hurt. He spoke of headless bodies and missing limbs.
Mr Ramsey thinks the Iraq war was worth it and that his son volunteered to help people through his medical skills.
But he adds, "I don't think it would have happened had he received the help from the army."
"I hope our country does a better job at serving our troops as each troop served our army. They deserve to be served just like generals. They need good medical care and good treatment," Mr Ramsey says.